Were midway between the Latin American Music awards and their mainstream cousin as good an excuse as any to offer a playlist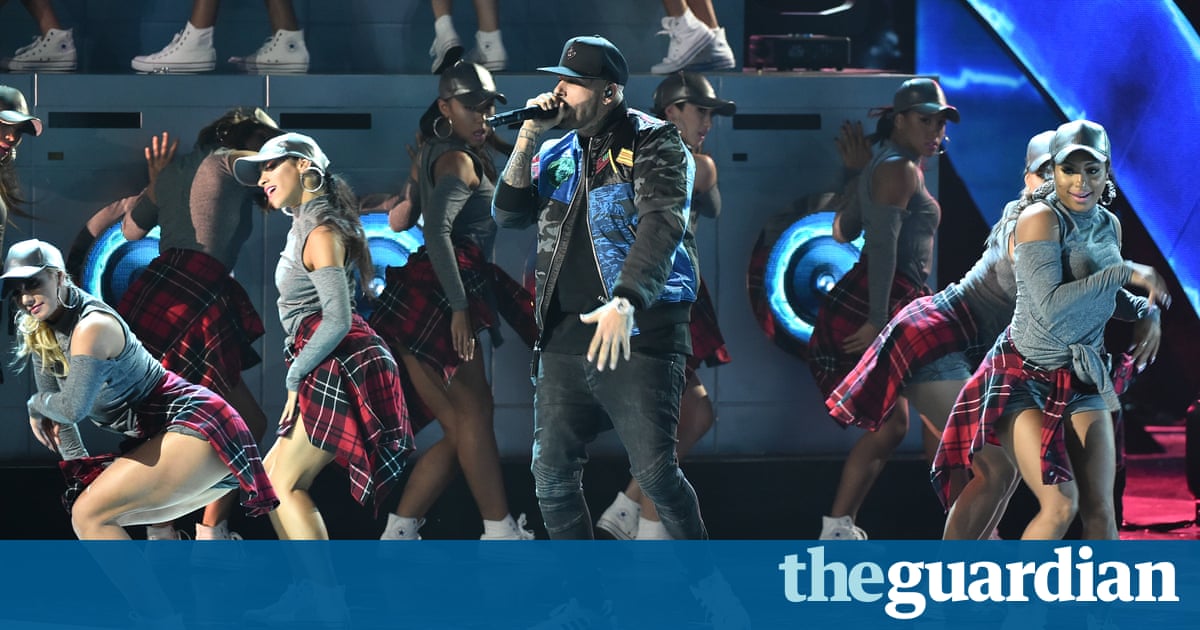 In celebration of the Latin nominees at this years American Music Awards, heres a playlist of 20 great songs by Latin American artists from the past 12 months.
Selena Gomez, Enrique Iglesias and reggaeton artists J Balvin and Nicky Jam have all been nominated for this years event, which will be broadcast live from Microsoft Theater in Los Angeles on 20 November.
The American Music Awards has as good a claim as any to be regarded as the peoples music awards ceremony, reflecting a multicultural America, from country to hip-hop. While Grammys are based on votes by members of the National Academy of Recording Artists and Sciences, the AMAs are voted for by the public and in addition their nominations rest on sales, airplay and social media activity instead of an inside vote.
Last year the Academy also created their Spanish-language counterpart, the Latin American Music Awards, shown on Telemundo. The second annual LAMAs took place earlier this month and featured performances from Pitbull, Idina Menzel, Sofa Reyes and appearances by Alicia Machado, Don Francisco and Chiquis Rivera.
So, in recognition of more Latin artists getting into the ears of mainstream America, heres a Spotify playlist from some our favorite Latin records from the past year.
Bobo J Balvin: The reggaeton star teamed up with Medelln-based producers Bull Nene, Sky and Mosty for this song about a Bobo (loser) not appreciating his girlfriend.
Duele el Corazn Enrique Iglesias ft Wisin: This song became his 27th No 1 song on Billboards Hot Latin Songs Chart the most by any artist. Its a classic Iglesias pop ballad with great vocals by Boricua star Wisin.
Hasta el Amanecer Nicky Jam: A trademark track by the hopeless romantic Nicky Jam, who meets a girl at a laundromat who then leaves without leaving her name. Pobrecito!
El Perdedor Maluma: Colombia keeps bringing it with Maluma as he raps and sings throughout this reggaeton record about reconciling with a former lover.
Kill Em With Kindness Selena Gomez: If Michelle Obamas message of going high when they go low was a song, it would be this dance record with a tropical house vibe.
Solo Yo Sofa Reyes ft Prince Royce: Time to slow things down with the most heartfelt ballad in the playlist as the super talented Reyes (who started singing and playing piano before she was 10) joins forces with Prince Royce.
Encantadora Yandel: Roc Nations Yandel made one of the radio hits of the year with this record with the producing help of Farruko.
Obsesionado Farruko: Talking of the Puerto Rican singer, Farrukos Obsesionado became one of my favorite songs of the year. From beginning to end the record has a perfect trajectory in which he describes his obsession with his lover.
Loco Pero Feliz Pirulo y la Tribu: Despite the fact that this record was released a few years back, it was remastered in order to promote the golden edition of one of the best salsa and timba groups out there.
No Soy Una De Esas Jesse & Joy ft Alejandro Sanz: One of the catchiest songs of the year, hands down. The Mexican siblings, Jesse and Joy team up with the Spanish razor voice of Alejandro Sanz. Oh, and the video is also great.
Solo Con Verte Banda Sinaloense MS de Sergio Lizrraga: This 17-man ensemble brings it with a beautiful Mexican balada ranchera.
La Bicicleta Carlos Vives and Shakira: Colombia unites once again as Shakira and Carlos Vives combine reggaeton, cumbia and vallenato in one of the best songs of the year.
Andas En Mi Cabeza Chino & Nacho ft Daddy Yankee: Venezuela is most definitely in the house with the help of Boricua super star Daddy Yankee.
Hasta Que Se Seque El Malecn Remix Jacob Forever ft Farruko: The Cuban star created one of the best sounds of the year with this record and this remix with Farruko is a winner.
Sola Becky G: This became Becky Gs first ever record entirely in Spanish and many called it her sexiest. We dont disagree.
Tan Fcil (Urban Remix) CNCO ft Wisin: The product of Univision and Simon Cowells La Banda deliver with this romantic record with a reggaeton beat and once you hear it, you cant get it out of your head.
El Mismo Sol Alvaro Soler ft Jennifer Lopez: Solers debut single got a J Lo touch in this Spanglish, feelgood record.
Otra Vez Zion & Lennox ft J Balvin: The Puerto Rican duo get some help from J Balvin with what probably is my favorite collaboration of the year.
Culpa al Corazn Prince Royce: We slow things down just for a moment as this bachata Bronx native leaves his bad-boy urban vibe for a slower, more romantic ballad.
Vente PaCa Ricky Martin ft Maluma: The playlist ends with a Miami party and Ricky Martin and Maluma invite you to the VIP room with this great record that just makes you want to dance. OK, its October but I refuse to accept this is the end of summer.
Read more: www.theguardian.com